Boston Seeds works closely with Buglife 'the invertebrate conservation trust', helping protect the UK's most endangered species of bees, butterflies and other small creatures.
Together we have already created and restored over 100 acres of traditional wildflower meadows, providing some of the UK's most endangered species with food and habitats. However there is still much work to be done...
Natural England (2011) estimate that from 1930 to 1983 over 97 per cent of wildflower meadows were lost throughout Britain. According to the RSPB (2016) over '56 per cent of the wildlife species studied have declined over recent decades' and it is estimated that within our lifetime, over 150,000 species will soon be gone if nothing is done to protect them.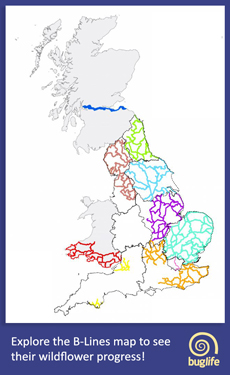 Buglife is the only organisation in Europe which is dedicated to the protection and conservation of all invertebrates. They work throughout the UK helping to protect all manner of bees, butterflies and beetles for future generations.
Buglife's award winning 'B-lines' project aims to create over 150,000 hectares of wildflower corridors across Britain. This ground breaking scheme connects conservation areas across the country with 'insect pathways' which will allow our endangered wildlife to spread and thrive. They are also creating 200 hectares of wildflowers across some of the most neglected urban areas as part of their 'UrbanBuzz' project - helping nature thrive within our towns and cities.
Buglife has chose Boston Seeds to be their exclusive supplier, providing all their projects across the UK with native wildflower seeds, plants and bulbs. As members of the Flora Locale, Boston Seeds adopts a strict code of practice, which means our wildflower seeds are sustainably sourced, and sold responsibly to ensure the protection of our native species. All our wildflower seed mixtures are tried and tested to make sure they create diverse habitats which will last for years to come.
For more information about Buglife and to see what projects are taking place in your area, take a look at the Buglife website. You can also join Buglife - for just £3 a month you can help provide them with much needed support and be a part of saving our nation's wildlife.
Buglife in the news: