Cornfield Annual Wildflower Seed BS9P 100%
Next Day Delivery
Cornfield Annual Wildflower Seed BS9P 100%
You will love BS9P Cornfield Annuals wildflower seed mix if you want bold and beautiful colour. UK native wildflower seed carefully collected and prepared for you. Enjoy nature's bounty and improve the environment.
Sow in spring or autumn - sprinkle on the soil and cover the seeds by raking or rolling.
Wonderful habitat for bees and butterflies or just for adding colour to gardens verges, or fields.
Wildflower species are all recommended by the RHS as 'Plants for Pollinators'
Sow at 3 grams per sqm - 1kg sows 330 sq/m
Contains: Corn chamomile (yellow and white), Corncockle (pink-purple), Cornflower (blue), Corn Marigold (yellow), and Poppy (red).
Click this link for mixture contents and information.
Mixture Specification
| | Common Name | Latin Name | Quantity | Flowers | Height | Type |
| --- | --- | --- | --- | --- | --- | --- |
| 1 | Chamomile, Corn | Anthemis arvensis | 15% | Jun - Jul | 30 - 50cm | Annual |
| 2 | Corn Cockle | Agrostemma githago | 45% | May - Aug | 50 - 70cm | Annual |
| 3 | Cornflower | Centaurea cyanus | 20% | Jun - Oct | 20 - 80cm | Annual |
| 4 | Marigold, Corn | Chrysanthemum segetum | 15% | Jun - Oct | 30 - 50cm | Annual |
| 5 | Poppy, Common | Papaver rhoeas | 5% | May - Jul | 50 - 70cm | Annual |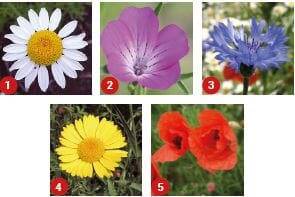 Customers who bought this also bought: