Wildflower plants provide a quick and easy way to establish or improve an area of wildflowers. The plants are available in a wide range of species and are supplied as 40cc plugs.
How big are the plants?
The plants are 40cc plugs, supplied in plastic trays in multiples of twenty five.(Picture below left: 40cc Primrose Plug Plants)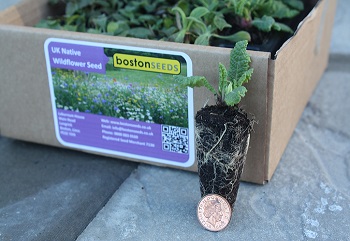 How old are the plants?
All wildflower species will take differing periods of time to establish. Some can be ready in as little as two months after the seed has germinated whereas some of the slowest to establish, such as Cowslip, can take around nine months to be ready.
How will I receive my plants?
We supply our wildflower plants in custom made cardboard boxes. The boxes are an exact fit for the plants to ensure that they do not move around and get damaged in transit. We dispatch the plugs on an over night courier service to minimise the amount of time the plants are enclosed in the box. We do not dispatch the plants on a Friday as this would result in them being in the box over the weekend. (Picture below: Twenty-five wildflower plants in mail order box.)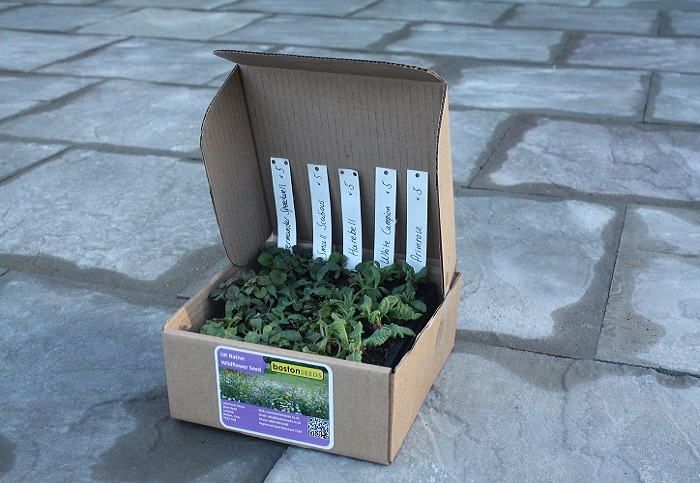 When are they available?
The plants are available year round except during periods of very cold weather when the plugs are frozen. They are all grown outside in unheated poly tunnels; this means that they are very hardy and are able to be planted at any time of the year. We have annual species, such as Poppy and Yellow Rattle, which are only available in the spring. We have up to one hundred and fifty different species available and are able to supply them in almost any quantity.