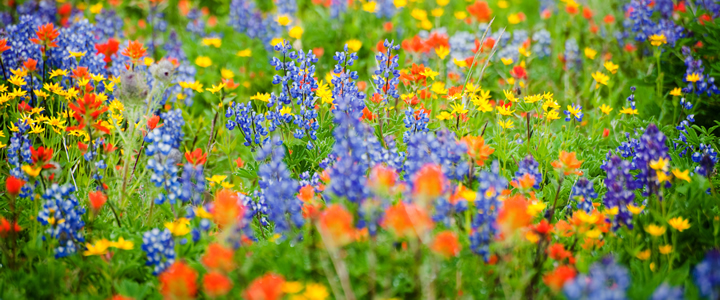 Wildflowers are a stunning additon to any area - gardens, meadows, landscapes and borders.
How to establish wildflowers
The best time to sow wildflowers is either in the autumn (between August and October) or the spring (between February and May). Generally, autumn is preferred because there are fewer risks from weeds.
Seedbed preparation
Before making a wildflower seedbed, first, you need to kill any grasses, weeds or other plants in the area. You can do so by spraying, or completely lifting the turf. A few months before sowing is best, to make sure the work has been effective. After the area is cleared, the soil has to be broken up with a fork, or a petrol tiller if you are doing a large area.
Sowing seeds
Wildflowers need to be sown at 3g per square metre for 100% wildflowers, and 5g per square metre for 80/20 mixtures. Spreading at such a low rate is tricky, so try mixing the seed with dry sand to help spread it evenly. In small patches, this is not so hard, so you can easily spread by hand. When the seed has been spread, rake the soil gently, then compact it by treading the seeds in.
Establishing wildflowers
The seeds will begin to germinate in a few weeks. The various grasses and flowers will come through at different times, so if grasses start to emerge first do not worry. With a mix of annuals or annuals and perennials mix, colour will come in the first year, but a perennials mix will look far better in its second year.
Maintenance
To keep your flower meadow in good condition, go over the area with a strimmer at the end of the season, in September or October - after the plants have all finished flowering. Then remove the debris and go over the area with your mower, cutting down to 15cm or so.