Coastal Areas Wildflower Seed BS10P 100%
Next Day Delivery
Coastal Areas Wildflower Seed BS10P 100%
Use this mixture to establish wildflowers in areas close to the coast on sandy or calcareous soils.
Contains nineteen British native wildflower species, including Haresfoot Clover and Evening Primrose.
Species in this mixture are frequently found in coastal areas that contain sandy loams, stony loams or calcareous loams. Able to tolerate moderate salinity.
Sow at 3 grams per sqm - 1kg sows 330 sq/m
Click this link for mixture contents and information.
Mixture Specification
| | Common Name | Latin Name | Quantity | Flowers | Height | Type |
| --- | --- | --- | --- | --- | --- | --- |
| 1 | Bedstraw, Lady's | Galium verum | 6% | Jun - Sep | 50 - 80cm | Perennial |
| 2 | Campion, Bladder | Silene vulgaris | 4% | May - Sep | 25 - 60cm | Perennial |
| 3 | Carrot, Wild | Daucus carota | 6% | Jun - Oct | 30 - 100cm | Perennial |
| 4 | Cat's-ear, Common | Hypochaeris radicata | 2% | Jun - Oct | 15 - 50cm | Perennial |
| 5 | Clover, Haresfoot | Trifolium arvense | 5% | Jul - Sep | 10 - 30cm | Annual |
| 6 | Daisy, Ox-eye | Leucanthemum vulgare | 10% | May - Sep | 20 - 100cm | Perennial |
| 7 | Evening-primrose | Oenothera biennis | 6% | Jun - Oct | 60 - 100cm | Biennial |
| 8 | Goat's-beard | Tragopogon pratensis | 5% | Jun - Sep | 20 - 60cm | Biennial |
| 9 | Knapweed, Common | Centaurea nigra | 10% | Jun - Sep | 30 - 80cm | Perennial |
| 10 | Knapweed, Greater | Centaurea scabiosa | 6% | Jun - Sep | 50 - 90cm | Perennial |
| 11 | Marigold, Corn | Chrysanthemum segetum | 3% | Jun - Oct | 30 - 50cm | Annual |
| 12 | Poppy, Common | Papaver rhoeas | 3% | May - Jul | 50 - 70cm | Annual |
| 13 | St John's-wort, Common | Hypericum perforatum | 4% | Jun - Sep | 30 - 90cm | Perennial |
| 14 | Toadflax, Common | Linaria vulgaris | 4% | Jun - Oct | 30 - 90cm | Perennial |
| 15 | Trefoil, Bird's-foot | Lotus corniculatus | 6% | Jun - Aug | 10 - 40cm | Perennial |
| 16 | Vetch, Kidney | Anthyllis vulneraria | 8% | May - Oct | 15 - 50cm | Perennial |
| 17 | Viper's Bugloss | Echium vulgare | 3% | May - Oct | 50 - 100cm | Biennial |
| 18 | Yarrow | Achillea millefolium | 4% | Jun - Oct | 20 - 100cm | Perennial |
| 19 | Yellow-rattle | Rhinanthus minor | 5% | Jun - Sep | 25 - 50cm | Annual |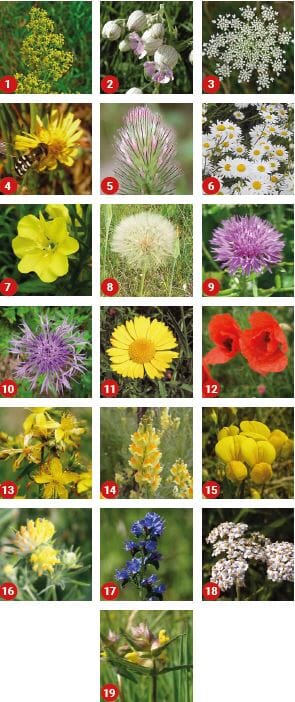 Customers who bought this also bought: