Acidic Soils Wildflower Seed BS11P 100%
Next Day Delivery
Acidic Soils Wildflower Seed BS11P 100%
Use this mixture to create a permanent wildflower meadow on particularly poor quality or acidic soils.
Contains twenty one British native wildflower species, including Betony, Greater Bird's-foot Trefoil, Ragged Robin and Devil's-bit Scabious.
Species in this mixture are frequently found on poor acidic soils which tend to be dominated by a mineral or an organic content eg; heath land, peaty soils and moor land areas.
Sow at 3 grams per sqm - 1kg sows 330 sq/m
Click this link for mixture contents and information.
Mixture Specification
| | Common Name | Latin Name | Quantity | Flowers | Height | Type |
| --- | --- | --- | --- | --- | --- | --- |
| 1 | Agrimony, Fragrant | Agrimonia procera | 5% | Jun - Aug | 80 - 150cm | Perennial |
| 2 | Bedstraw, Lady's | Galium verum | 5% | Jun - Sep | 50 - 80cm | Perennial |
| 3 | Betony | Stachys officinalis | 6% | Jul - Sep | 25 - 50cm | Perennial |
| 4 | Buttercup, Meadow | Ranunculus acris | 8% | May - Jun | 30 - 100cm | Perennial |
| 5 | Cat's-ear, Common | Hypochaeris radicata | 2% | Jun - Oct | 15 - 50cm | Perennial |
| 6 | Cornflower | Centaurea cyanus | 4% | Jun - Oct | 20 - 80cm | Annual |
| 7 | Daisy, Ox-eye | Leucanthemum vulgare | 5% | May - Sep | 20 - 100cm | Perennial |
| 8 | Foxglove, Wild | Digitalis purpurea | 4% | Jun - Aug | 50 - 100cm | Biennial |
| 9 | Knapweed, Common | Centaurea nigra | 7% | Jun - Sep | 30 - 80cm | Perennial |
| 10 | Ragged Robin | Lychnis flos-cuculi | 4% | May - Aug | 30 - 90cm | Perennial |
| 11 | Sage, Wood | Teucrium scorodonia | 3% | Jun - Oct | 25 - 50cm | Perennial |
| 12 | Scabious, Devil's-bit | Succisa pratensis | 2% | Jul - Sep | 50 - 80cm | Perennial |
| 13 | Sneezewort | Achillea ptarmica | 6% | Jul - Sep | 40 - 60cm | Perennial |
| 14 | Sorrel, Common | Rumex acetosa | 5% | May - Jul | 30 - 100cm | Perennial |
| 15 | Sorrel, Sheep's | Rumex acetosella | 4% | May - Jul | 20 - 40cm | Perennial |
| 16 | St John's-wort, Common | Hypericum perforatum | 3% | Jun - Sep | 30 - 90cm | Perennial |
| 17 | Trefoil, Bird's-foot | Lotus corniculatus | 5% | Jun - Aug | 10 - 40cm | Perennial |
| 18 | Trefoil, Greater Bird's-foot | Lotus uliginosus | 4% | Jun - Aug | 20 - 60cm | Perennial |
| 19 | Vetch, Tufted | Vicia cracca | 5% | Jun - Sep | 100 - 150cm | Perennial |
| 20 | Yarrow | Achillea millefolium | 8% | Jun - Oct | 20 - 100cm | Perennial |
| 21 | Yellow-rattle | Rhinanthus minor | 5% | Jun - Sep | 25 - 50cm | Annual |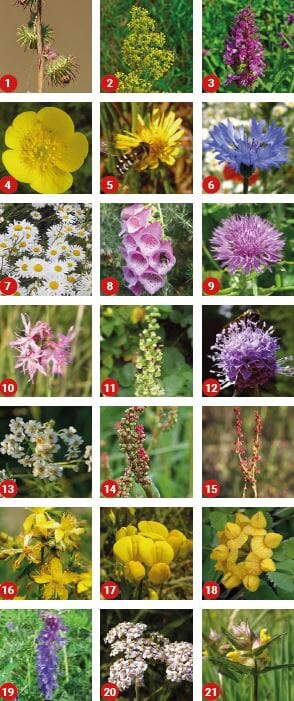 Customers who bought this also bought: