Cornfield Annuals Wildflower Meadow Seed BS9M 80/20
Next Day Delivery
Cornfield Annuals Wildflower Meadow Seed BS9M 80/20
Use this mixture to create a bold display of British annual wildflowers along with meadow grasses.
Contains five native wildflower species, including Corn Chamomile, Corn Cockle, Cornflower, Corn Marigold and Common Poppy.
The annual species included could be found in most cultivated soils and disturbed areas. They can be sown in a situation where 'instant' colour is required, or combined with other mixtures containing perennial species when flowers are required during the first year.
Sow at 5 grams per sqm - 1kg sows 200 sq/m
Click this link for mixture contents and information.
Mixture Specification
| | Common Name | Latin Name | Quantity | Flowers | Height | Type |
| --- | --- | --- | --- | --- | --- | --- |
| 1 | Chamomile, Corn | Anthemis arvensis | 15% | Jun - Jul | 30 - 50cm | Annual |
| 2 | Corn Cockle | Agrostemma githago | 45% | May - Aug | 50 - 70cm | Annual |
| 3 | Cornflower | Centaurea cyanus | 20% | Jun - Oct | 20 - 80cm | Annual |
| 4 | Marigold, Corn | Chrysanthemum segetum | 15% | Jun - Oct | 30 - 50cm | Annual |
| 5 | Poppy, Common | Papaver rhoeas | 5% | May - Jul | 50 - 70cm | Annual |
| | Bent, Common | Agrostis castellana | 4% | | 50 - 100cm | Grass |
| | Crested Dogstail | Cynosurus cristatus | 20% | | 30 - 60cm | Grass |
| | Fescue, Sheeps | Festuca ovina | 16% | | 15 - 50cm | Grass |
| | Fescue, Slender Creeping Red | Festuca rubra, litoralis | 24% | | 10 -200cm | Grass |
| | Meadow Grass, Smooth Stalked | Poa pratensis | 6.4% | | 30 - 90cm | Grass |
| | Timothy, Small Leaved | Phleum pratense ssp Bertolinii | 9.6% | | 50 - 100cm | Grass |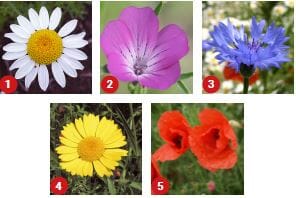 Customers who bought this also bought: