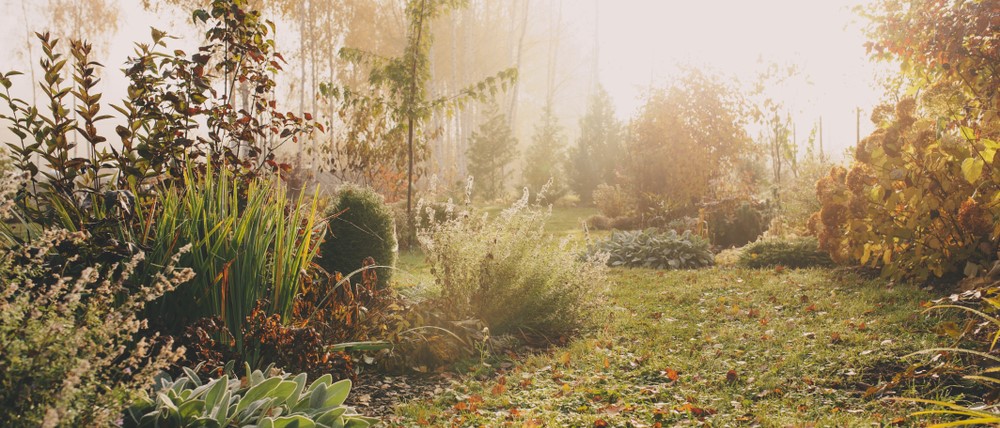 November is the perfect time of year to start thinking about lawn care for the winter season.
It's too late now to plant most grass seed, but it's not too late for our specially formulated Winter Green Grass Seed, or to fertilise and keep on top of moss problems. Replace regular mowing with leaf clearing to keep your lawn in top condition will help prepare your lawn for the often more extreme weather of December and January.
What should I do to my lawn in November?
Here's your November lawn care 'to do' list:
Collect leaves and other debris that has fallen from trees or garden beds to avoid damaging the lawn over winter.
Fertilise your lawn with our specially-formulated Autumn & WInter Lawn Fertiliser, to keep it healthy and green over winter.
Weed the lawn, pulling any weeds you can reach.
Aerate and reduce shady areas to help control moss.
Mow if necessary, but it's likely to be your last cut of the year.
Can you still cut grass in November?
You can still mow your lawn in November, but it will probably be your last cut of the year. If grass is still growing and you need to mow your lawn, go for it. But be careful not to cut the grass too short or you'll end up with brown patches over winter.
It's a good time to raise the height of your mower blades to the highest setting. Allowing the grass to grow long now will keep it healthy and it will grow more vigorously when the weather warms up. Keeping to a height of around 2 inches of grass is ideal.
You keep an eye out for slugs too - they love cool damp environments like those found on a freshly cut lawn so make sure that all clippings are collected and added to your compost heap.
Mower Maintenance
As you retire your lawn mower and other garden tools for the winter, it's a good time to carry out some maintenance. Clean and service your mower and other tools before you tidy them away so they're in good condition ready for the spring and summer.
Should I fertilise my lawn in November?
Fertilising is a great way to give your grass some nutrients before winter really sets in. An autumn and winter lawn treatment will give it a boost of energy and make the grass thicker, as well as protecting roots from cold weather. It's important to choose an autumn and winter lawn feed because they're formulated to provide the right nutrients during cold months.
Autumn and winter fertiliser contains nutrients like potassium and magnesium that are designed to help your lawn stay strong during the winter. Apply your autumn lawn feed after you have mowed your lawn and ideally after a good fall of rain for a good application.
Can I scarify my lawn in November?
We'd recommend you avoid scarifying your lawn at this time of year. During cool conditions when grass growth is slow, it can do more harm than good. The grass will struggle to recover from such a vigorous treatment.
If you have a problem with thatch, it's best to wait until spring when the grass is growing faster. Aeration can help, so use a garden fork to improve drainage and circulation.
Aerating Your Lawn in November
Aeration is often required at this time of year. It opens up pathways between plant roots so water can get into them easily, without creating puddles on top of the ground where fungus and moss are most likely to thrive. This helps reduce foot traffic damage too when people walk across moist grass.
When aerating the lawn over winter, make sure you only create small holes for drainage. Larger holes can freeze and swell in low temperatures which can damage your lawn. Stick to a garden fork or rolling lawn aerator.
Sowing Grass Seed in November
November is ordinarily too cold for grass seed sowing, but our Winter Green Grass Seed extends the sowing season allowing for germination down to soil temperatures of just 5 degrees.
The second option is dormant seeding when the weather gets very cold. You won't see results until the spring but it's an option if your grass is not growing well and you're willing to wait. You can read all about it in our dedicated article, dormant seeding: what you need to know, which will help you to understand if it's the right solution for you.
Weeds and Moss
Weed any area that you can access, as weeds compete with your grass for space, light and nutrients. All of these can be limited during the winter months so it's best to keep them at bay. However, at this time of slow growth, weeds are unlikely to cause too much of a problem for your lawn.
Moss can cause issues at this time of year, and you'll notice it more as grass growth slows. Areas prone to moss need regular attention. Moss likes wet ground and will grow in shaded areas, so keep on top of any patches or remove them as soon as they develop.
Aerating the lawn can help with drainage and reduce the moist conditions that help moss to thrive. This can keep moss at bay and also make your lawn look better.
Trimming and Pruning to Reduce Shade
Large bushes and trees can create shady areas that moss will thrive in. Growing grass in shady areas can be difficult at the best of times, so consider pruning and trimming to reduce shade, which will help the grass grow healthier and stronger in the long run. It's best to trim trees in late autumn rather than during any other time of year as this will aid their recovery period.
Leaves and Debris
Collect leaves and other debris before they create an unsightly mess on the lawn over the winter months. This could damage new growth next spring if not cleaned up beforehand.
You can even prune trees and plants to collect leaves before they fall. This will prevent them from falling on the lawn and reduce shady areas - helping grass to make the most of the minimum amount of sunlight when days are shorter than normal.
Use a rake to gently remove fallen leaves from the surface of the lawn. Don't rake too vigorously or you can risk damaging the lawn.
Lawn Maintenance Tips for November
Pests: worms will continue to produce casts over winter and brushing them away can be difficult when the soil is wet. Don't forget that worms are good for your soil, so keeping on top of leaf collection is your best form of cast prevention. It won't stop the casts altogether but it will reduce the amount that forms on the surface of your lawn.

You can also apply ferrous sulphate or iron to discourage worms from moving to the surface of the soil.

Lawn Diseases: look out for lawn rust at this time of the year. If your lawn is suffering from this, it will look yellow and powdery. It can be treated with a nitrogen-rich fertiliser but this is best applied in the spring. Fusarium is another lawn disease that's common in the damp conditions November brings. As we mentioned in our October lawn care post, aeration can help improve this condition. If it's persistent, you may need to scarify the lawn in the spring. Find out more about common lawn diseases and causes in our dedicated article.

Frost & Snow: Be mindful that your lawn will be susceptible to frost or snow when it falls on the grass. November frost is usually light, but the British weather is always unpredictable so heavy frosts or snow could be possible. If frost occurs, don't walk on the grass. You could snap brittle blades of grass and damage your lawn. Re-assess those shady areas as frosts won't thaw as quickly here, and make sure your garden is protected from the wind. This should help to protect your lawn from the harsh winter weather conditions.
With these tips, maintaining a healthy-looking lawn during autumn and winter should be easier than ever before. With just a few adjustments, including aerating more regularly if moss becomes an issue, collecting leaves and trimming back bushes or trees; we can keep our lawns looking their best all year round! We're here to help with that too, our lawn care diary will see you through each month of the year in detail.