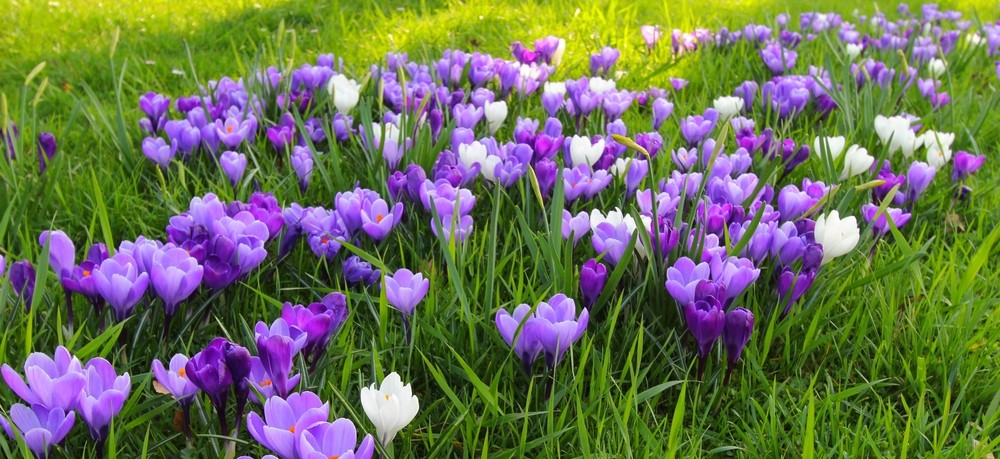 Spring has well and truly sprung, and you will notice the difference to your lawn in April. The warmer weather brings with it new challenges and there are a whole host of tasks for a gardening enthusiast to tackle in the earlier spring months of the lawn care calendar.
April Lawn Maintenance
Now the spring season has arrived, you'll need to start paying attention to your lawn in particular. As the weather warms up, your grass will go into a phase of growth that needs regular care and attention. Gone are the days of winter when the grass was conserving its energy and developing its root system. In April, at the very least you'll need to start regularly mowing your lawn. But for a truly healthy lawn, there's plenty more than mowing to get stuck in to...
What should I do to my lawn in April?
If you have a limited amount of time for lawn care, here's what to focus on this month:
Spring Showers: Aerating the Lawn
April showers are common, and these downpours can cause problems with your lawn. The most likely problem is waterlogging, caused when the soil is so full of water it can't take any more. If this isn't dealt with, the water will "starve" grass roots of oxygen and the grass will begin to die off. Damp conditions can also cause some lawn diseases and moss problems.
The best solution is to aerate the lawn, working across the whole lawn with a garden fork to improve drainage. You can also use a hollow tine aerator if necessary. Top dressing the lawn after aeration will help tackle the problem too, and will even up the surface of your lawn.
Should I water my lawn in April?
No, you shouldn't need to water the lawn in April. Generally, your lawn will receive enough moisture and temperatures are not high enough to dry it out.
However, if you have added new grass seed to repair bare patches, you may wish to water these areas where necessary.
Can I scarify my lawn in April?
Yes, April is a good time of year to tackle raking or light scarifying. There's enough rain, sun and warmth for grass to recover fairly quickly and help you see the benefit of this process rather than risking damage and leaving a mess!
Often referred to as dethatching, scarifying removes build up, dead grass, moss, and thatch that hinders grass growth. You might choose to treat weeds and moss before you scarify. This way, you can collect dead moss and debris as part of the process.
Should I fertilise my lawn in April?
You should plan to fertilise your lawn in April. It's a good time of year for your spring lawn feed because the grass is actively growing and the soil is moist. You should aim to apply lawn fertiliser once you've cut the grass a couple of times. This shows that the weather is warm enough for good growth. Apply your lawn feed right after mowing to allow it to settle before the next cut.
How often should I mow my lawn in April?
Once April arrives, you'll need to start mowing the lawn around once every two weeks. As the temperature rises towards the end of the month, you may need to increase the mowing frequency to once a week.
If you haven't already made the first cut, now is a good time to do it. Keep the mowing height high and only take off the top of the grass. You shouldn't take off more than a third, or it could shock the grass. This will stunt grass growth, and your lawn could struggle to recover.
Towards the end of April, growing conditions improve. At this stage, you can reduce the mower height and get back to regular mowing, plan to cut grass weekly.
April Lawn Care Tips
Here's some further lawn care advice to consider during the spring season:
If you haven't treated bare patches yet, sow lawn seed to encourage new grass plants to grow.

Just like in the rest of your garden, you'll want to keep on top of weed control as warmer weather encourages growth. Look out for weed grasses and other lawn weeds that can upset the balance of your lawn. Remove where possible and treat if necessary.

If moss has become a problem, you'll need to consider your moss control plan. April is a good time to scarify, apply a moss killer and get your turf clear ready for the summer.

You can apply lawn food, weed and moss killer in one with a product such as our Feed and Weed plus Moss Killer. April is an ideal time for applying a treatment like this.

Keep lawn edges tidy as well as mowing to keep your garden looking its best.
A little spring lawn care goes a long way, so make sure you tend to your lawns in April. Don't forget to check out our related articles covering year round lawn care advice and you'll be amazed at the difference you can make. A great lawn makes for a more enjoyable garden all year round!
------------
Why not add a touch of colour to your lawn borders this summer with our huge range of wildflower seed mixes? Early April is perfect for planting wildflower seeds and you'll be spoilt for choice with the Boston Seeds offering!