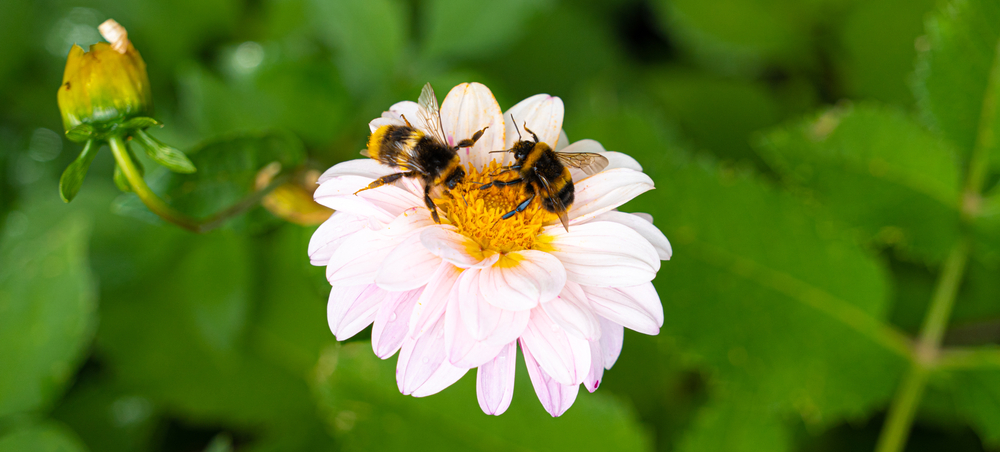 Having a garden full of wildflowers has grown in popularity over the last few years. A wildflower meadow is a wonderful way to add some unfiltered natural beauty to your outdoor space during the spring and summer months. They don't just look incredible though, they're also brilliant for wildlife and encouraging biodiversity.
Many UK native wild flowers are even recognised by the Royal Horticultural Society as being proven to tackle the decline in bees, butterflies and other pollinating insects.
Varieties like Wild Garlic, Yellow Rattle, or Wild Strawberries are all wonderful, aromatic additions to your garden, providing lots of luscious nectar and helping to attract bees and pollinators as well as feed the local fauna such as birds.
But when it comes to working out the best way to start a wildflower garden, it can be difficult to choose between wildflower seeds, wildflower bulbs or wildflower plants if you're not 100% sure. Here, we'll talk through the pros and cons of each so you can decide which is the best for you...
Why choose wildflower seeds?
One of the main reasons that people choose to buy wildflower seeds is the variety of choice. Products like the Bees and Butterfly Seed Mix allow you to easily plant a mixture of wildflowers that are full of rich nectar and insects love.
With many wildflower seeds for sale, it can become a little overwhelming when trying to figure out which ones are for you, but options like the Restore & Enrich Mix, feature both perennial and annual British wildflower species. A species mix like this gives you more flexibility as they'll flower at slightly different times throughout the year, starting in early spring - giving you a long lasting, attractive wild flower meadow throughout the summer, with the majority returning the next year and for many years to come.
When planting bulbs or plugs, you need to plant each individual flower which can be a time consuming task. With the use of a seed spreader, seed mixes can be easily sown across a garden in a matter of minutes.
Of course, larger spaces will take slightly longer than this but it is still quicker than planting individual wildflower plants or wildflower bulbs.
Wildflower seed is also much easier when it comes to awkward, hard to reach spaces such as road verges and woodland edges, as you don't have to get into the ground to plant them - just scatter and wait for the flowers to bloom.
You might also want to consider a wildflower seed mix with grass. The addition of grass helps to create a more natural look and make it easier to create a dense, rich, meadow of wildflowers you can enjoy throughout the year.
Along with our wide variety of bulk wildflower seed mixes, we offer single species individual seed packets too, allowing you to easily create your own flower seed mix. This enables you to easily focus on specific colour schemes, scents or focus on either annual or perennial wildflower species, or both if you'd prefer.
What are the cons of wildflower seeds?
Wildflower seeds do allow you more variety, but they also require some extra attention to reach their full potential.
When sowing seeds, it's important to make sure you don't bury them too deep. This is because they won't be able to get the light they need to germinate. One way to ensure they are covered with soil, without being buried too deep, is running a rake over them after sowing.
You'll also need to be more patient with wild flower seeds as they will take longer to reach full bloom than a transplanted bulb or plant.
Why choose wildflower bulbs?
For many gardeners, half the fun is designing your garden and wild flower bulbs are an easy way to add a pop of colour and change the overall look. With the Autumn Planting Wildflower Bulbs for example, you can start building colour in your garden from as early as January.
Our Autumnal bulbs will arrive dormant, and can be planted in preparation for the spring seasons. Wildflower bulbs are a great choice for existing flower beds around lawns, and using tools such as a bulb planter can help you get the job done more quickly and precisely.
All of our wildflower bulbs are native to the UK and as they are more established than wildflower seeds, you'll find they're incredibly easy to grow. This is especially true of our Wildflower 'In the Green' Bulbs which arrive when the bulb is actively in growth.
Daffodils are an especially popular choice for gardens that want to add a pop of colour in spring and varieties like the Tenby Daffodil can even grow on rocky ground and in shaded areas.
What are the cons of wildflower bulbs?
Bulbs are easy to grow, but they will take slightly more patience when planting. You'll need to thoroughly inspect each bulb to ensure none are damaged or diseased. If you see anything like yellow mottled foliage, this is generally an obvious sign of damage to your bulb.
It's also important to be careful with bulbs as they can spread and become invasive. If you're letting your wildflower meadow grow naturally, this isn't necessarily a problem. If you do want to keep your bulbs in line, spring is the best time to do this.
Why choose wildflower plants?
Wildflower plugs are seedlings that have been germinated and generally come in small trays. They can either be grown indoors in pots until they're slightly larger, or grown in their trays until they're ready to go directly into the ground.
All of Boston Seed's wildflower plant collections feature a variety of species that will compliment each other to create an idyllic wildflower meadow, like our Hedgerow Wildflower Plant Collection.
Wildflower plugs are the best choice if you want to get an established wildflower garden growing quickly. Wildflower plants can also be a great choice if you have coarse soil that is especially difficult to grow in. If you'd like to buy wildflower plug plant collection, options like the Chalk and Limestone collection feature plant species that can grow even in difficult conditions and can really help create vibrancy where you may think it's not possible.
What are the cons of wildflower plants?
Wildflower plants will offer you the least amount of choice when it comes to curating your wildflower garden. This is because you will need to rely on what is already growing. If you like to plan your garden in advance, wildflower plants will require you to wait until they're in season until they can be planted in your garden.
If you want to add some depth to your garden, wildflower plugs can help easily fill out spaces during the growing season.
Choosing The Right Wildflowers for Your Garden
Whether you prefer wildflower seed, bulbs or plants will entirely depend on the effect you're looking to achieve. Wildflower seeds remain the most popular choice for gardeners as it gives you the biggest variety of choice, easiest to sow and they tend to work out cheaper than buying bulbs or plugs, especially if you have a lot of ground to cover.
Whichever wild flowers you choose, we have a number of guides to establishing your wildflower garden and then maintaining your wildflower meadow.
-----------------------
Still unsure which wildflowers to buy? Why not get in touch with a friendly member of our team who'll be happy to help.