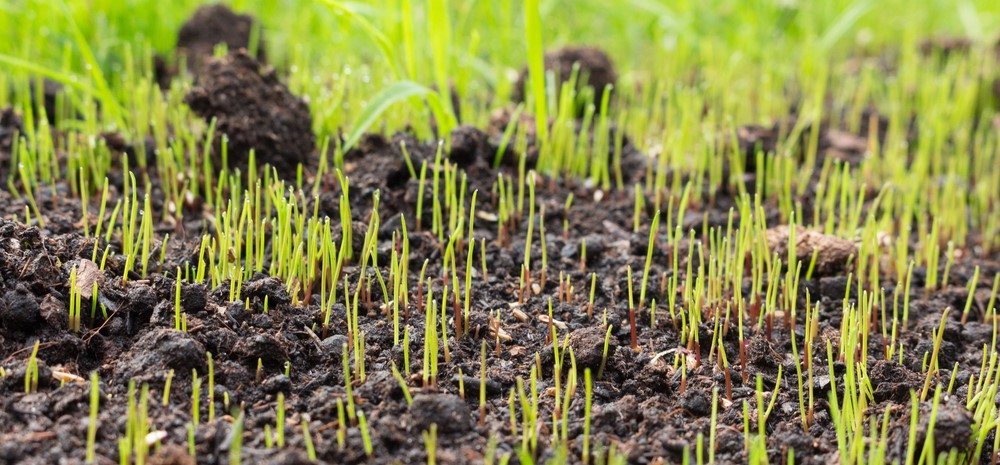 March is the beginning of the lawn care calendar! The weather warms up and new growth begins. You can see the changes in your garden as spring starts to arrive. But March can be a mixed month, although it's a great time for many spring lawn care tasks it's also time to be wary of some. Here's our guide to March lawn maintenance, with advice for beginners and more experienced gardeners alike.
Caring for Your Lawn in March
When March arrives you'll certainly notice that grass growth speeds up. Keeping your lawn tidy will take up a lot more attention as the temperatures rise, sunlight increases and your lawn emerges from its dormant state. So what are the most important lawn care tasks to carry out this month?
What should I do to my lawn in March?
The first word of caution in March is to watch the weather, but as soon as the sun starts to shine and temperature reach double figures, it's time to plan your spring lawn regime.
Equally, March can be unseasonably warm. Higher temperatures will encourage growth and you might find your lawn looking untidy.
Is it too early to mow the lawn in March?
No, it's not too early - in fact, many gardeners will choose to trim the lawn on a dry February day if the opportunity arises. March is the perfect time for your first cut of the year. However, mowing frequency should still be relatively low in March. You may only cut the grass once or twice this month and expect to get back to regular mowing around April.
Although growth should have increased, you should still exercise some caution when lawn mowing at this time of year. You still need plenty of height, so keep lawn mower blades on their highest setting. This gives the grass blades plenty of chance to soak up sunlight and continue to build their strength which will improve future growth.
Can you scarify a lawn in March?
Generally, March is still too early to scarify your lawn. If you have a build-up of debris and moss it can be tempting to consider this task, but it's best left until April when the grass has a better recovery rate.
March is a good time to check on your soil and aerate with a garden fork or a hollow tine aerator if necessary. Gently brush away any worm casts and treat moss if necessary, but plan a light raking and scarifying as things warm up in April.
Early Spring Lawn Care: Dos and Don'ts
Do:
Plan tasks according to the weather
Keep a close eye on the health of your lawn
Cut the grass if it's growing well and apply spring fertiliser
Prepare soil and apply lawn seed if conditions are favourable
Aerate and try to reduce any sitting water
Continue to remove debris and leaves
Brush away worm casts that have built up over the winter before mowing

Don't:
Be too concerned if grass seed still lies dormant, it might need slightly warmer conditions to grow so be patient
Mow the lawn if the weather is very cold and growth is slow
Carry out intensive scarifcation
Cut grass too short
What should you treat your lawn with in the spring?
From early March, you should treat your lawn with a Spring lawn fertiliser. This will contain nitrogen (N), phosphate (P) and potassium (K) which help to feed the grass in the cooler spring weather. There are many different lawn fertilisers, some contain higher levels of nitrogen to encourage leaf and shoot growth and others contain weed and moss killer too. Using the right product at the appropriate time of year will help create a strong and healthy lawn.
Apply fertiliser when the ground is wet or rain is expected and following a cut, but avoid extremely wet weather. To get a great application we'd recommend a fertiliser spreader. You'll achieve an even spread over the surface of the lawn and have more control over the rate and quantity applied. Correct fertilisation will result in a lawn that's strong, healthy, green and full of vitality.
March Lawn Care Tips
Here's some further lawn care advice and gardening tips to consider as we move into the warmer spring weather:
If winter has left bare patches in your lawn, make sure you use lawn seed to repair them. The perfect time to apply grass seed for immediate growth is between March and April.

Quickly smarten up the appearance of your lawn by trimming the edges if you didn't do this over the winter.

If the wet weather has caused moss problems, consider your moss control plan. Order a fertiliser that can kill weeds and moss and prepare to scarify next month.

March is also one of the best times of the year for laying a new lawn. Turf can be laid in preparation for an established lawn by spring. You can sow lawn seed in late March or early April as long as you water it regularly.
Your lawn will certainly keep you busier during March, so enjoy carrying out your spring lawn care tasks so you can appreciate your garden as the temperature starts to rise!
---------
Why not add a splash of colour to your lawn edges this summer with our extensive range of wildflower seed mixes? March is the perfect time to plant wildflower seeds and you'll be spoilt for choice with the Boston Seeds selection!